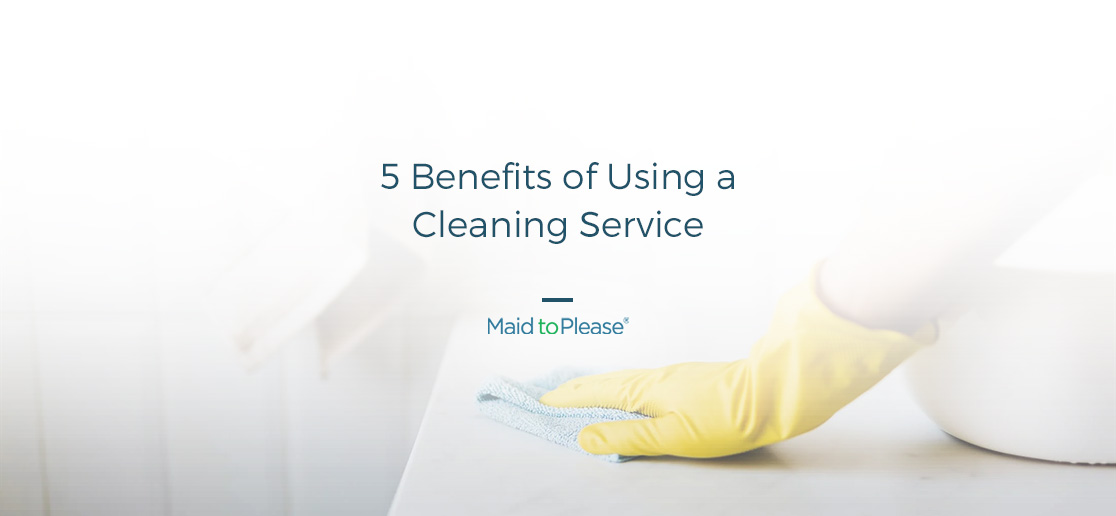 Enlisting the help of a professional to clean your personal space may not seem like a priority, but we at Maid to Please in Sterling, Virginia, have the tools, dedication, and technique to deep clean your home with top-notch precision and extraordinary attention to detail.
While there are many benefits of hiring someone to clean your home, the number-one benefit is that you won't have to spend time cleaning your home anymore. Let our team of professionals take care of the dirty work with our impeccable cleaning services. The time you must enjoy your life takes precedence over having to scrub and scour your home every week to prevent simple wear and tear and deterioration.
If you are considering a Sterling house cleaning company, discover what Maid to Please has to offer! See our attention to detail and experience our high standards.
In this article are the top five reasons to enlist the help of a professional house cleaner. Look them over and then call Maid to Please to take care of all your cleaning needs.
1. Professional Experience and Tools

When you hire a company to clean your home, they arrive with the tools and expertise necessary to get the job done.
Sure, you most likely own a duster, dustpan, and mop, but do you have professional-grade materials to take the cleanliness of your home to the next level? What about the time it takes you to get the job done right? You could simply buy professional-grade cleaning supplies but being diligent about the upkeep is another factor.
When you hire a team of professionals to clean your home, you are paying them to clean all the main areas and the cumbersome sections you often avoid, such as:
Baseboards

Corners

Behind appliances

Under furniture
Professionals are prepared with high-quality equipment to deep clean your home to the highest standard. When you pay for professional house cleaning, you experience the knowledge and insight of cleaning specialists. They know what products and tools to use when cleaning particular surfaces. Trust the difference.
2. Save Time
Your time is important. Instead of having to worry about what you did and didn't clean the week prior, take the worry off your plate by hiring a company to maintain your home or place of business on a set schedule.
At Maid to Please, our trained and dedicated staff works efficiently within specific time restraints and never lacks quality and thoroughness when it comes to our attention to deep cleaning your space. You deserve to spend your time doing things you enjoy! Let us take care of the rest.
3. Save Money: Only Pay for What You Need

Yes, it does cost money to pay for professional house cleaning, but you end up saving money in the long run by customizing the needs of your home.
Experience the benefit of having professionals focus their attention on specific areas of your home. We at Maid to Please know the importance of general upkeep when it comes to hard-to-clean surfaces such as:
Our cleaning services are here to handle these daunting tasks. Let us save you the burden of having to replace shades or curtains due to lack of care. With regular deep cleans and scheduled maintenance, you can increase the life of these hard-to-manage areas.
You can also create your own cleaning schedule and have professionals work with your requests. Even if you simply need a touch-up, a cleaning service offers different services depending on the level of cleaning you need.
We can also give recommendations on what needs attention and when throughout the year. Feel the benefit of creating a cleaning plan that works for you!
4. Protect Your Health
As a homeowner, you want to rest easy in the knowledge that you're breathing in quality air. When a residence or commercial space collects dust, allergens grow and lead to dirty indoor air. This is especially concerning if you have children, grandparents, or people that are immune-compromised living with you.
You may not have the time and dedication to ensure the cleanliness of the hard-to-reach spaces. Taking care of dust and eliminating the potential hazard of a mold infestation should be a regular top priority, and we can help.
As a top-rated Sterling house cleaning company, Maid to Please is here to deep clean your home and protect your health to the best of our ability.
5. A Clean and Tidy Home without the Stress

Your home should be a place where you feel safe and able to enjoy your life. When you use our residential cleaning services, we guarantee you a clean, safe environment for your family without added stress. Think of how much better you feel when you can relax in an open space that you know is clean.
You can invite neighbors over without worry. You can have out-of-town guests visit last minute without scrambling to reorganize and clean, so your space looks "good enough."
When you pay for professional cleaning services, part of what you gain is peace in the knowledge that your home is always clean! Let us at Maid to Please provide you and your family with the deepest clean available so you can rest easy and appreciate your home.
The Maid to Please Difference
At Maid to Please in Sterling, VA, we know there are many cleaning services you can choose. This is why we pride ourselves on being one of the most loyal and long-standing customer-appreciated residential and commercial cleaning companies in the area.
Our customers stay with us due to our dedication, friendliness, and continued professionalism. We know how important your home is to you. We pride ourselves in our commitment to precision in deep cleaning and mindfulness when working in your home.
When you need a Sterling house cleaning company, call Maid to Please at (703) 481-8287 to schedule cleaning services. Don't carry the burden of cleaning your home alone. Let us do the work for you.