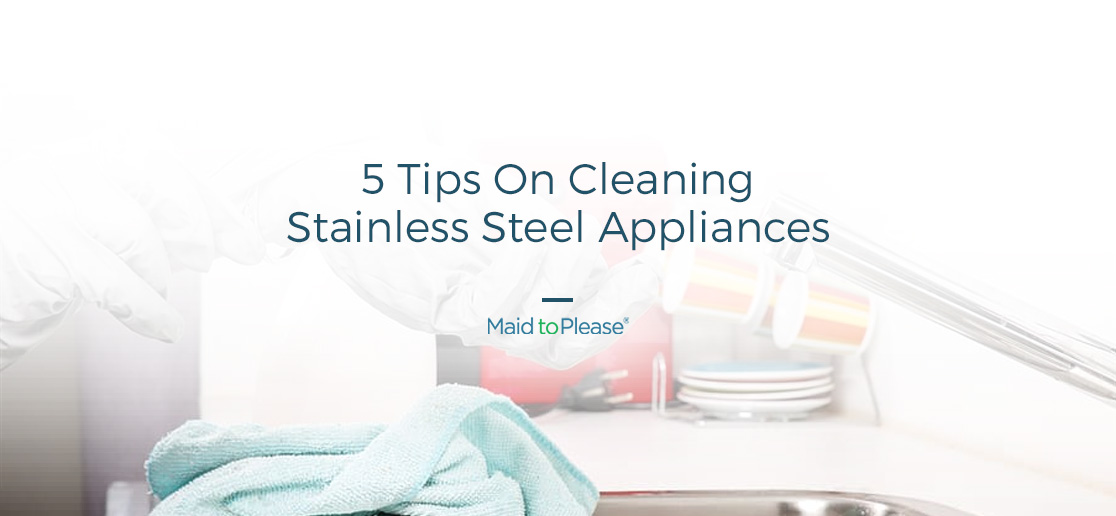 Stainless steel is not only beautiful to look at, but it's also durable. As more and more stainless steel appliances come onto the market, the demand for ways to keep them looking shiny and new has risen.
Anyone who has anything stainless steel in their home knows the struggle of cleaning it. Between the fingerprints, grime, and build-up, it can become a complete nightmare. Success and satisfaction are right around the corner, though!
Whether you're a fan of tried and true products or someone who likes to experiment, we've found the perfect method for cleaning stainless steel appliances for you. We've even discovered a few ingenious ways you can stay all-natural.
Here are five clever cleaning hacks to help you send those pesky fingerprints running for the hills!
1. Keep it Simple with Cloth
According to Consumer Reports, you should "avoid using harsh abrasives, scouring powders, steel wool, bleach, and ammonia, all of which can damage the finish."
A great alternative to this is to use cloth for cleaning stainless steel appliances. Soft materials, such as cotton or terry are best.
Simply dip your cloth in warm water and the mild dish soap of your choice. Wipe the appliance and rinse the cloth as needed. Repeat this process until you are satisfied.
Finally, make sure you dry the surface with a soft material. This will help prevent water spots. A microfiber cloth is my personal go-to.
2. Step up Your Game to Swipe Away Even the Toughest Grime

As much as we all love natural cleaning products that are gentle on our appliances, they aren't always the answer. Sometimes you need to attack tough problems with even tougher solutions. However, you need to be wary of damaging that gorgeous stainless steel.
In this situation, use Windex on stainless steel. It's strong enough to scrub away those tough spots but gentle enough that you'll avoid damaging your appliances. I will admit many people disagree on this method but many more swear by it.
Reno's Appliance suggests that you "spray the cleaner on a microfiber cloth and apply evenly in a circular motion to remove the fingerprints."
3. Fizz Away Fingerprints with Baking Soda
Sodium bicarbonate (baking soda) is one of the most popular cleaning agents in the natural alternatives community. It is popular for its inexpensive nature and lack of toxic chemicals.
Home Guides provides a great method for how to clean stainless steel appliances with baking soda. They suggest that you use a "gentle scouring paste of 3 tablespoons of baking soda and enough water to reach the desired consistency. Rub the mixture over the surface with a sponge and then rinse the baking soda off with water."
You can combine this method with another natural cleaner to tackle even tougher projects. Stainless steel sinks are one of the biggest challenges I've taken on and this method works wonders.
After you've finished scrubbing the sink with your baking soda paste, rinse with vinegar. This will activate the bubbles and fizz in the baking soda, helping to release dried on food and grime.
If you're using this method on an appliance that you want to keep shiny, just make sure you polish afterward. A microfiber cloth will help you get the job done in no time!
4. Make Your Pots and Pans Sparkle and Shine
Appliances aren't the only stainless steel items that may live in your kitchen. Those amazing stainless steel pots and pans also pose a cleaning conundrum. Never fear! Try a few of these methods and you'll be a cleaning wizard in no time.
For everyday cleaning, use the baking soda paste we discussed in the previous method. This will help prevent excessive buildup of food and grime.
If your pots and pans are beyond the point of no return, take a gander at what Mason Hunter suggests in Martha Stewart's blog. She tells you exactly how to clean stainless steel pots.
"Remove smudges with one tablespoon of olive oil and one tablespoon white vinegar. Drizzle olive oil onto the rag and rub the surface to get rid of smudges. Then, add a bit of white vinegar to the other side of the rag, wipe the surface and let dry.
The white vinegar helps to remedy scratches that your stainless may have picked up over time.
If you're in a hurry, Hunter has no problem with tossing her stainless in the dishwasher.
5. Get Creative with Your Cleaning
Check Your Cabinets
If you're looking for a better shine, Compact Appliance suggest using baby or mineral oil for polishing. After your cleaning, use a soft cloth to rub either of the oils onto your stainless steel appliances.
Just be sure to follow the grain and you'll end up with more shine than you know what to do with. If you're not sure how to find the grain on your appliances, check out this YouTube Video by Home Depot. You'll be an expert in no time!
Venture into the Garage
One of the strangest ways to clean stainless steel that I've come across is WD-40. You can just grab it right out of your garage and spray it directly onto your appliances. Simply wipe with a rag and you're good to go!
What's really great about this method is that it will provide an extra coating when you're finished cleaning. This will help prevent the buildup of those pesky fingerprints.
Apartment therapy does warn that "WD40 is a petroleum-based product so it's important to consider food and health safety if using in the kitchen." They suggest using this method mostly for the sink and rinsing it out after cleaning is complete.
Use What You Have

If it's cleaning day and you're in a pinch but out of stainless steel cleaner, you can probably use some of the other items in your cleaning cabinet.
Lemon furniture polish is one of the most popular options. Apply to a soft rag, wipe with the grain, then polish with a separate rag. DO NOT spray directly onto your stainless.
Cook Up a New Creation
Run into your kitchen and grab a cleaning powder, like Bon Ami or Mrs. Meyer's. Sprinkle it on to a damp towel and rub in circular motions on your appliances. Then, use another damp towel to rub flower onto the stainless steel, this time going with the grain.
Dry the surface. Finally, grab a piece of wax paper a rub the entire appliance with it. This extra step will help prevent future fingerprints and smudges from building up.
Get Cleaning!
Now that you've explored several cleaning methods at home for your stainless steel, get creative yourself! Don't be afraid to try new things to solve tough problems. Just be sure to do your research first so you can avoid any permanent damage to your precious stainless.
If you're still not inspired to try something new, check out this YouTube video full of cleaning hacks. It's sure to get you in the cleaning mood in no time!