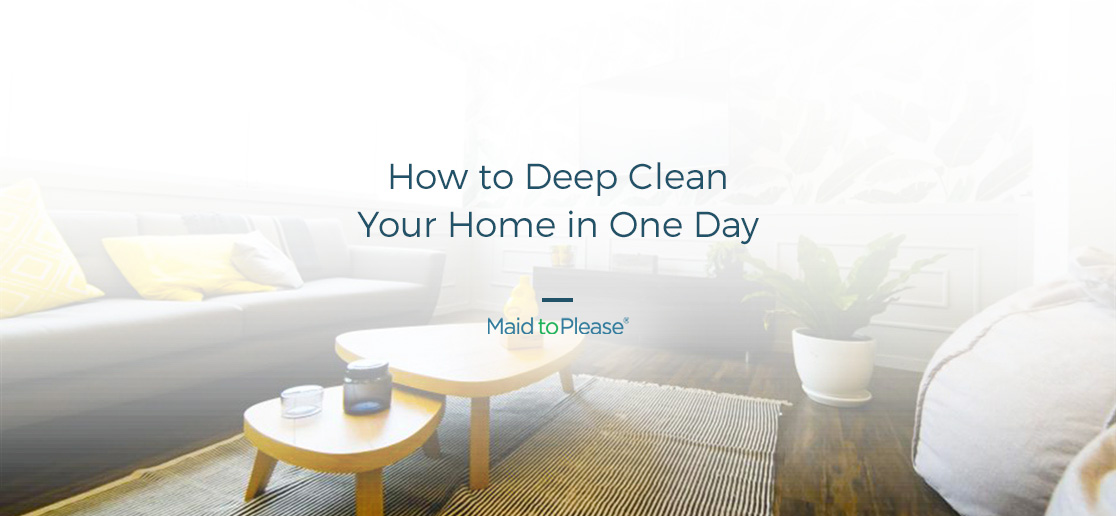 If you're like most homeowners in the Sterling, VA, area, you lead a busy life. With the best intentions, you can easily let your home get cluttered, allow dust to pile up, and put off house cleaning tasks. Once the house gets messy, people avoid cleaning because they worry it will take too long and they will never finish.
Maid to Please, the leading house cleaning company in Sterling, VA, and surrounding communities, has developed a streamlined cleaning system that delivers quality results. We're sharing our cleaning tips so everyone in our service area can benefit from our experience and expertise.
Even if you're home hasn't had a thorough cleaning in a while, you can get it back into shape with a deep cleaning. If you organize your efforts and tackle tasks in an orderly way, you can clean everything in your home in one day.
Have a Checklist
The best process for home cleaning will not be effective if you skip a step or do not prepare for it. Our orderly approach is one reason we are the best house cleaning company in Sterling.
Write out each step beforehand and the materials you need for each stage in the cleaning process. Double-check that you have safety equipment, especially if you plan to use harsh cleaners or heavy equipment.
Clean in Sequence
Cleaning a whole house seems daunting if you consider it a monumental task. Breaking the job down into smaller tasks makes the process easier in several ways.
Smaller cleaning tasks are less onerous. So, focusing on each task in isolation boosts morale.
Choosing the sequence of cleaning steps can keep you from inadvertently disturbing rooms you've already cleaned.
Early steps in the cleaning process set the stage for later ones.
Homeowners will get into the habit of cleaning in a particular order. As a result, they can naturally and efficiently move from one stage to the next without becoming distracted.
Start with Chores
If you have laundry or dishes left undone, they will get in the way of cleaning your bathroom and kitchen. Everyday tasks like doing the laundry are simple ways to build momentum. Use the time while you wait for the washer, dryer, and dishwasher to run to prepare the supplies you need for upcoming cleaning steps.
Clear off Surfaces
Clean from the top so that dust and dirt from light fixtures, counters, and cabinets do not land on clean surfaces. Start out by cleaning overhead light fixtures and high cabinets. Work your way down, clearing off tables, sinks, and countertops.
When dusting small appliances like blenders and coffee makers, move them out of the way so you can clean the surfaces underneath them.
Removing clutter will make it easier to bring cleaning supplies and reach every corner. Clearing surfaces also make it easier to move furniture for sweeping and mopping.
Cleaning the Kitchen

Once you put all the dishes away, clean the sink, countertops, and tables. Remove the burner grates and clean the stovetop, removing every trace of food and grease. Clean the refrigerator inside and out.
Once the furniture and appliances are clean, sweep and mop the floors.
Cleaning the Bathrooms
Cleaning the bathrooms requires disinfectant, protective gear, and elbow grease. Scrub the inside of the toilet, sinks, and bathtubs. Use a glass cleaner on the mirrors, and don't forget to clean the walls and corners.
Take any bathroom rugs and shake them out in the yard to remove dust. Mop the bathroom with a mixture of water and disinfectant.
Cleaning Living Areas

Start by dusting the furniture. Polish any wooden furniture to bring out its shine. Remove blankets and throw pillows from the sofa and chairs.
Use a handheld vacuum cleaner to remove dirt and food particles from the cushions. Use an attachment to reach the crevices between the cushions.
Move the furniture as much as possible and clean the floors. Avoid damaging the floor by carrying furniture or applying casters or felt protectors.
If you have carpet, use a wet vac and a cleaning solution appropriate for that model to remove any dirt or stains.
Clean the Deck and Patio
Once the inside of the house is clean, wipe down the patio furniture or deck chairs. Move them off the deck if possible. Sweep the deck and patio surfaces.
Once you finish outside, remove your shoes to avoid tracking mud onto the floors you just swept and mopped.
Keep Your House Tidy
Now that your house is clean, plan to keep it that way for as long as possible. Try the following tips from the top house cleaning company in Sterling to prevent dirt, dust, and clutter from building up.
Create a space near your front door for guests and family members to leave shoes before they enter.
Add an umbrella stand and coat hooks to prevent wet items from entering your home.
Add shelving or organizers for small household objects such as your remotes to reduce clutter.
Set aside time to dust one room of your house each day.
Mount a handheld vacuum on the wall for convenient access when cleaning small spills.
Every home is different. Tailor your approach to suit your home's unique features. If you did not find these suggestions helpful, the professionals at Maid to Please will gladly answer your follow-up questions.
Leave the Deep Cleaning to Us at Maid to Please in Sterling, VA
Find out why Maid to Please is the best house cleaning company in Sterling. If you need your house cleaned in a day, but don't have a day to spare, let Maid to Please take care of it for you. We handle window cleaning, move-out cleanings, and regular maid service.
We'll leave you with a bright, pristine house at an affordable price. Call 703-481-8287 for a 24-hour commercial or residential cleaning service in Sterling, VA. Each of our Maid to Please house cleaners has passed an employee background check.